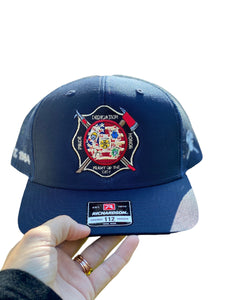 Deltona Station 61 "Heart of The City" Hat
Navy blue hat with the station logo embroidered front and center. Est. 1964 on right side of hat and the Axe Caps logo on the right side (stitching will be grey). These hats are approved by administration and can be worn on duty. **Some of the details of the logo might have been removed or modified for stitching purposes. 


Customization of hats can be done by adding a name for an additional fee of $4. Stitching will be in grey to match the rest of the hats logos. **Ponytail Hats can not be customized.